John Duncan was the 2017 recipient of the Hon. James R. Duane Award, given by the FCBA to a distinguished member of the Bar who has carried on Judge Duane's legacy of commitment to the practice of law, unswerving integrity, and tireless efforts on behalf of the people of New York.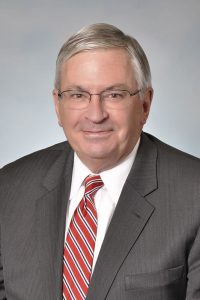 In 2015, John retired from the U.S. Attorney's Office in Syracuse after a nearly 40-year career as a prosecutor, having spent the first 10 years at the Onondaga County District Attorney's Office – where he became Chief Assistant District Attorney – and the remainder as a federal prosecutor. John tried more than 100 cases, including three where the defendants were convicted of killing a law enforcement officer.
John has been a mentor to many attorneys, and continues to devote his time to educating members of the legal profession as a co-presenter of the FCBA's Trial Practice and Evidence Series, and as an adjunct instructor of Advanced Trial Practice at Syracuse University College of Law.
John sat down to discuss his career, including his commitment to community outreach and teaching. If you want to read more about John's accomplishments, we also recommend this 2015 profile by the Syracuse Post-Standard, which recounts how a murder defendant assaulted him in court while the judge was instructing the jury.
What attracted you to become a prosecutor?
When I enrolled at Syracuse University College of Law, my intent was to become a tax lawyer. As I became exposed to other areas of practice, my interest shifted to litigation. In my third year, I chaired the Moot Court Board. After graduation, I worked in private practice for three years doing civil cases but decided to join the Onondaga County DA's Office with the specific goal of gaining more trial experience.
When I started, I saw firsthand the harm suffered by many crime victims. It created an interesting dynamic for me. As a prosecutor, I had the ability to file charges against an offender that would hold them responsible for their crime and hopefully provide some justice for the victim. But, regardless of the crimes they committed, I also had a strong ethical obligation to ensure that every defendant I prosecuted was treated fairly under the law and justly convicted. These challenges appealed to me and I have never looked back on my decision to become a career prosecutor.
How and why did you decide to switch from being a state prosecutor to a federal prosecutor?
After almost 10 years, I was a Chief Assistant trying homicides, violent crimes and drug cases. Then-U.S. Attorney Frederick Scullin started a program that allowed state prosecutors to be appointed as Special Assistant U.S. Attorneys. Given that many drug cases could be prosecuted at either the state or federal level, I jumped at the opportunity to prosecute cases in federal court. He appointed me as a Special AUSA, and we became acquainted with each other over the next year. At a point, he offered me a permanent position with the office but I declined twice because I thought I might have the opportunity to run for DA. When that did not materialize, fortunately, the U.S. Attorney called me a third time and said, are you ready now? I said yes and joined the office in 1988.
The U.S. Attorney's Office afforded me a more expansive platform to be a prosecutor. The cases were more complex and varied. The motion practice was more demanding. I had ample resources to prepare and try cases, with assistance from many great law enforcement agencies. I've always had support from outstanding colleagues and was blessed to have a superb legal assistant my entire career. After 40 great years, all this made my decision to retire in 2015 even more difficult.
You had 3 cases involving defendants who murdered police officers. How did you come to prosecute those cases?
It was a responsibility that I took very seriously. I had developed a great deal of experience in prosecuting homicide cases in the DA's Office and felt up to the challenge. Later, I was able to bring that background to the U.S. Attorney's Office where violent crimes, especially homicides, were not as prevalent.
The first case occurred in 1987 when I was still a state prosecutor. It involved the killing of an Onondaga County deputy sheriff and serious wounding of a second deputy during a failed escape attempt from a local court. The defendant, Billy Blake, seized a firearm from one of the deputy's holsters as they walked out of court and shot them both. He was caught almost immediately. He interposed a mental health defense claiming he was subject to uncontrollable fits of violent behavior. Blake was convicted after a colorful trial that the local community followed closely. At the time, it was rare that a police officer was killed in the line of duty. It, sadly, occurs more often these days.
The second case occurred after I joined the U.S. Attorney's Office. On October 30, 1990, Syracuse Police Officer Wallie Howard Jr. was killed in the line of duty during an undercover drug deal gone wrong. Officer Howard was a member of our Federal Drug Enforcement Task Force and many of us knew him and worked with him. Although there was an initial state prosecution of the three defendants arrested at the scene of the shooting, the state was unable to charge the two ringleaders who were not present but who set up the drug deal. Current U.S. Attorney Grant Jaquith and I developed a federal case against these two additional individuals who were equally responsible for Officer Howard's death. After a lengthy trial, all five were convicted on federal drug and murder charges.
The third case involved four members of a seasoned Philadelphia-based crew who robbed a New Hartford, N.Y., jewelry store at gunpoint on February 27, 2006. Following a dramatic, high-speed chase, New Hartford Police Officer Joseph Corr was fatally wounded as he bravely attempted to capture one of the robbers. That individual was able to escape back to Philadelphia but was killed the next day in a shootout with U.S. Marshals. Only one subject was apprehended that night in New Hartford. Two other robbers escaped undetected in a second vehicle. The case had its challenges. After a very lengthy, multi-state investigation, AUSA Richard Southwick, a skilled former state prosecutor, and I were able to identify and indict the remaining robbers on federal interstate conspiracy, robbery and felony-murder charges. All three were convicted after trial and are serving life sentences.
At the U.S. Attorney's Office you did a lot of community outreach. What were some of your most memorable experiences in this area?
I first developed an interest in community outreach when I was in the DA's Office. As a result of handling many drugs cases, I learned a lot about the drug culture and why people got involved in using and selling drugs. As a prosecutor, I thought I could use that knowledge to support some community strategies to deter young people from getting involved with illegal drugs.
My direct involvement started with the Syracuse Onondaga Drug and Alcohol Abuse Commission. I had just joined the U.S. Attorney's Office and started to work closely with U.S. Attorney Fred Scullin to create a comprehensive community response to address the drug problem, especially crack cocaine. With Fred's considerable personal involvement and the resources of the U.S. Attorney's Office, we were able gain support to establish this new community-based anti-drug coalition. It was among the first in the country to be awarded federal funding. We had great participation from federal, state and local law enforcement, local government and community organizations. Fred served as the Chairperson for the first year and I followed after as Chair for a number of years. Because of a very gifted and committed staff, we were able to put a number of innovative drug prevention programs in place. The Commission later became recognized nationally as the best community anti-drug coalition in the United States.
In the early 90s, I also got involved, along with others, in establishing the Onondaga County Youth Court. Under this program, young, first-time offenders, who committed minor crimes, could have their cases heard by a panel of three high school "judges" as an alternative to family court. After hearing arguments from student defense attorneys and student prosecutors, the "judges" would impose up to 50 hours of community service. I chaired the Youth Court Advisory Board for many years. It proved to be a very successful way to deter young offenders from future involvement with the criminal justice system.
Some prosecutors, when they retire, try their hand as a defense attorney. Is that something you'd be interested in?
I admire those who are skilled at doing defense work. Despite the fact that I still miss the courtroom, after 40 years of practicing law, I am not looking to take on defense work.
I keep busy enough. In addition to serving as an adjunct at Syracuse Law School and doing occasional lectures for the FCBA, I'm on the board for New Justice Conflict Resolution Services, which provides mediation and counseling services, and am a member of the DeWitt Police Commission.
What are your other interests?
I like reading, currently The Gatekeepers by Chris Whipple. It's a review of the past White House Chiefs of Staff. I find it to be a fascinating read given I served in the White House during my military years. My wife and I also enjoy traveling and spending time with our very first grandchild. We are also fortunate to have our three children living locally.
I am also an avid collector of vintage sports cars. I have a workshop where I maintain them. I first started tinkering with cars when I was a teen. My father encouraged me to do my own work when I couldn't afford to pay a mechanic to repair something. It was great advice. My very first car, which I still own, was a 1953 MG TD. I bought it when I was 18 and am currently restoring it. Of my other cars, one of my favorites is a 1970 Jaguar E-Type. I found it locally in the early 90s and did a complete restoration. While it continues to win awards in car shows, the best part is just driving it on a country road, top down, on a warm summer's day. Life is good.