NORTHERN DISTRICT OF NEW YORK – FEDERAL CIVIL LOCAL RULE 83.2 Pro Bono Service (formerly L.R. 83.3)
Local Rule 83.2 requires all attorneys admitted to practice in the Northern District of New York – except attorneys employed by the government – to accept at least one (but no more than one) pro bono assignments per year on a rotating basis. Read the rule in its entirety here.
The typical assignment takes place after all discovery and dispositive deadlines have passed, and the case is about to proceed to trial. While these cases can be challenging, they provide attorneys with a unique and invaluable trial experience that often pays dividends in the future.
In 2015, the U.S. District Court for the Northern District of New York, under the guidance of then-Chief Judge Gary L. Sharpe, established a page dedicated to honoring those bar members who have provided pro bono service to Northern District litigants who were unable to afford legal representation. The pro bono honor roll can be accessed via the following link: http://www.nynd.uscourts.gov/probono
The resources below are intended to assist attorneys in pro bono legal matters in the Northern District of New York.
Looking for the 2022 Pro Bono CLE Materials Packet?  The course materials can be found here.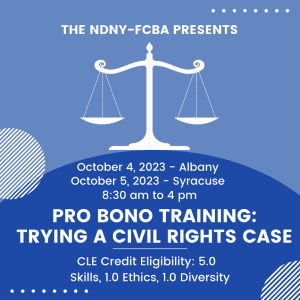 SAVE THE DATE: Pro Bono Training CLE 2023:  Learn how to try a Civil Rights Case in Federal Court from soup to nuts. Moderated by Mike Sciotti, Esq. this program will provide the training all attorneys need to confidently handle a Pro Bono Case in Federal Court. This course will be offered in person in Albany (10/4) and Syracuse (10/5). Limited seating is available.  Register today for Albany or Syracuse.  
GENERAL
Communications with Client
General Jury Charges
Witness Lists
Exhibit Lists
Findings of Fact & Conclusions of Law and Other Post Trial Documents
Writ of Habeas Corpus Forms (Issued By Court)
Letter Requests
Pre-Trial Stipulations
Motions In Limine
Voir Dire – Plaintiff
Voir Dire – Defendant
Judgment
EXCESSIVE FORCE
Jury Charges (Plaintiff)
Jury Charges (Defense)
Jury Charges (Used By Court)
Jury Verdict Sheet (Used By Court)
Trial Briefs (Plaintiff)
Trial Briefs (Defense)
DUE PROCESS
Jury Charges (Plaintiff)
Jury Charges (Defense)
Jury Charges (Used By Court)
Jury Verdict Sheet (Used By Court)
Trial Briefs (Plaintiff)
Trial Briefs (Defense)
MEDICAL INDIFFERENCE
Jury Charges (Plaintiff)
Jury Charges (Defense)
Jury Charges (Used By Court)
Jury Verdict Sheet (Used By Court)
Trial Briefs (Plaintiff)
Trial Briefs (Defense)
RELIGION
Jury Charges (Plaintiff)
Jury Charges (Defense)
Jury Charges (Used By Court)
Jury Verdict Sheet (Used By Court)
Trial Briefs (Plaintiff)
Trial Briefs (Defense)
RETALIATION
Jury Charges (Plaintiff)
Jury Charges (Defense)
Jury Charges (Used By Court)
Jury Verdict Sheet (Plaintiff)
Jury Verdict Sheet (Used By Court)
Trial Briefs (Plaintiff)
Trial Briefs (Defense)
DELIBERATE INDIFFERENCE FOR SAFETY & FAILURE TO PROTECT
Jury Charges (Plaintiff)
Jury Charges (Defense)
Jury Charges (Used By Court)
Jury Verdict Sheet (Used By Court)

Heath v. Saddlemire, Foley, Reyes, Pilatich, Darling, Messina, Hotaling, Hodges, Supina, Stroud, Angerami, Chewens, Chase, and Palmer (9:96-CV-1998 (FJS/RFT)) (985208)

Trial Briefs (Plaintiff)
Trial Briefs (Defense)