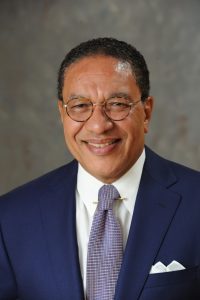 Randolph F. Treece served as a United States Magistrate Judge in the Northern District of New York from April 2001 until September 2015. He previously served as counsel to the Office of the State Comptroller, First Deputy Capital Defender at the New York State Capital Defender's Office, Assistant Attorney General for the State of New York, Assistant Public Defender for Rensselaer County, and in private practice with the law firm of Fritts, Whiting, and Treece. He is now of counsel to the law firm of E. Stewart Jones Hacker Murphy, working in the firm's office in Troy, where he was born and raised. Judge Treece, or Randy as he wants you to call him, discussed his mediation practice, as well as other aspects of his career.
Did you receive training to become a mediator?
My training basically took place here as a Magistrate Judge while conducting settlements over the past 15 years. Settlements and mediations are first cousins. The judge's role when evaluating cases, and trying to get the parties to arrive at a possible resolution of the matter, somewhat sets the groundwork for my mediation practice. The real difference between settlement conferences and mediation is that during the settlement conferences the judge actually controls most of the discussion and there usually comes a point in time where a judge basically says, alright here's what I'm thinking and here's my evaluation as to where I think the case may settle. For mediation, it's all about facilitating the discussion so that the parties arrive at a resolution as opposed to the Court, during settlement, trying to get the parties to be reasonable and come within a range that they can live with. The first part of a mediation discussion is facilitating. But as time goes on, and as people may start getting tired, they start looking to the mediator to give a perspective as to what could be a reasonable settlement or range. With mediation, it takes hours to arrive at a resolution while with a settlement conference there comes a point in time where the judge says, this is it, I'm becoming tired, here's what I think, go tell your clients that this is what I'm thinking, and see if this is acceptable for a settlement – probably, it's not that definitive but close to it. In mediation, you just keep encouraging the parties, sharing with a party that their adversary raised this issue, would you consider the following, and can we consider this other perspective? It's just nudging and nudging and nudging.
So do you take a combined approach, first you're facilitating and then you're being more evaluative?
That's the approach that most mediators take. You just listen and listen and make suggestions, maybe a little of bit of urging while learning everyone's perspective. But there does come a point in time, if the parties haven't reached a resolution, that a mediator may be asked to step in to provide an evaluation or range. Here is when I might say I'm evaluating the case as X, how do you feel about that? Can you live with that? Mediation often encompasses two different approaches. It's a collective discussion at first, face to face. And if that is not going well, then, as a mediator, you ask the parties if they can be separated into caucuses. And then the mediator travels back and forth between the parties, transmitting messages, maybe suggesting inferences from what's being raised, and then invites them into a range or zone. And the zone is where you can get them close enough to arrive at an agreement.
How do you go about evaluating the value of a civil case
That's a major discussion among mediators. You pay attention to verdicts in similar cases; pay close attention to what juries have awarded. You speak with your peers as well as attorneys for the defense and plaintiffs to see what their experiences have been with similar sets of facts. I also turn to jury verdict sheets but sometimes they are skewed because most of the reported cases come out of New York City. Clearly, Upstate New York does not produce the same type of verdicts and settlements. I do a little bit of everything — experience, talking to colleagues, reading verdict sheets, and then posit as to what could be reasonable.
Other than your experience as a Magistrate Judge, what job or life experience do you draw on most as a mediator?
I was in the Attorney General's Office defending the state and I saw a lot of personal injury actions and how those cases concluded. Although, Court of Claim judges are far more generous than most jurors in this area of the state. And federal juries are probably more penurious than state jurors. I keep that in mind, too. I have often said to litigants, especially those from downstate, you're here in federal court, the Northern District of New York. This is not Southern District, this is not Eastern District, this is not Albany County and here is what we are seeing with federal juries in this district. We have a large federal district with jurors who are probably middle-class, hard-working Johns and Janes who are not ready to throw big dollars at a case like you may see in the Bronx and Manhattan. So I keep that in perspective as well.
When you were defending potential capital murder defendants, did you participate in extensive plea negotiations?
There is a saying: death is different. The negotiations were far more complicated, far more extensive, and far more problematic for both sides than in an ordinary criminal case. So when we were trying to convince a District Attorney not to declare death, we were constantly talking to them, constantly. We were continuously providing the DAs with information — background information, information regarding the facts as they were developing, and when absolutely necessary we shared views of our expert witnesses. Then, under New York State law, the District Attorney had 120 days to "declare death," to seek the death penalty once there was an indictment alleging murder in the first degree. So within that 120 days we were working awfully hard trying to convince the prosecutor not to declare death. Of the 23 murders in the first degree that we handled in this region, we did not have one declaration of death, not one. Our team considered that a success, that no one died on our watch. But it's hard. And negotiating with defendants is probably more arduous than talking to the prosecutor. Because often you are asking the defendant to spend the rest of his life in prison as opposed to going to trial and risking death. They did not see that as an attractive option. We spent hours, days, sometimes weeks trying to convince them to save their life by considering a plea disposition. It was hard, nerve-wracking work.
Do you ever get calls from people asking to hire you for criminal cases?
Yes I do, and I refer them to other lawyers. I decided I was not going to practice criminal law. I've had my experiences. I wore my heart on my sleeve and it was taking more of a toll on me than most people realize. Because I really fretted about the liberty of my client, and when working in the death penalty arena, I fretted about losing the life of my client. When I retired from the Court and started practicing, I reminded myself that I'm in my late 60s and I really don't want to carry that burden anymore. My current view is let me give these matters to someone who is young, vigorous and energetic. Now, would I work behind the scenes, help out? I would do that, but I don't want to be the upfront person anymore.
Could you imagine a criminal case that could get you back into the courtroom?
Working with somebody, yes, but not as lead counsel. After a while you realize that this is a young person's game, and I've come to enjoy sleeping peacefully, without any worries. When I practiced criminal law there were often sleepless or restless nights. I am enjoying my rhythm of life, I like being home putting my feet up and napping. Naps are great. I like finding time to play tennis, walk the dogs, and read.
What most surprised you about being a magistrate judge?
How lonely the job was. I've been collegial my entire career, built relationships, and enjoyed the company of lawyers. Weighing the ethical canons and the need to be neutral, judges don't have the same level of involvement with lawyers. It gets really lonely, especially in federal court since there is not a constant flow of people in the hallways like in state court. I had a video monitor in my office for security purposes, and if I saw someone I knew, I'd open the door and say, hey get in here, say hi, let's talk!
What most bothered you in terms of litigant conduct?
The incivility. I saw too much of it. That was a surprise. I just thought that because federal court is so majestic and the decorum of court is so rich and proper, I expected everybody would embrace the dignity of the court and conduct themselves that same way. But that is often not the case. I experienced some real tawdry, ugly scenes. Most of the incivility and abuse happens in telephone conferences, and not so much in court. I don't think I ever encountered incivility in a criminal case. If someone raises their voice in a criminal case, it was just due to the tenor of their advocacy. When there was incivility in a civil case, it was just inappropriate, boorish behavior that you wouldn't want to see from your children.
What are you doing in your spare time? You've been a great student of local history – are you pursuing any historical research?
I am playing a lot of tennis, reading, listening to jazz, attending concerts, and just enjoying myself. I have been attending art museums, such as the Hyde and the Clark. For some reason, I am paying more attention to art as opposed to vising historical sites. I'm paying more attention to local political races. I have been reading biographies. I finished Hamilton, Sonia Sotomayor's biography, and a biography about jazz singer Sarah Vaughn. I just started reading Colson Whitehead's The Underground Railroad. In terms of local history I may get interested in it again: for example, at the turn of the 20th century there was a black attorney in Troy by the name of Cheeks. I saw his picture in the Rensselaer County Bar Association 1900 bar picture. I learned his name from my mother. He belonged to her church and played the violin during Sunday services. He was a classically trained violinist and may have played throughout the country. He worked in the Rensselaer County Clerk's Office for a number of years. He may have been the first black attorney to practice or live in Troy. With some impetus, he may be someone to write about.