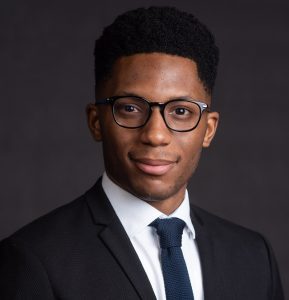 By Robert Conrad
The first recipient of a scholarship established in honor of the Hon. Norman A. Mordue '66, L'71 is 2L Tyriese Robinson.
The NDNY FCBA Hon. Norman A. Mordue '66, L'71 Law Scholarship provides a Syracuse University College of Law student with the means to pursue a legal education and follow in the footsteps of Judge Mordue, a decorated war hero who served as chief judge for the NDNY and taught trial practice at the College of Law as an adjunct professor. The NDNY FCBA established the scholarship after the passing of Judge Mordue in December 2022.
Robinson, a native of South Carolina, served in the U.S. Air Force. He was a GeoBase Engineering Technician and Lead Honor Guard Trainer at Joint Base Pearl Harbor-Hickam, Hawaii. After the Air Force, Robinson completed his bachelor's degree in psychology at Clemson University where he served as a U.S. Department of Veterans Affairs Federal Work-Study student, President of the Clemson Student Veterans Association, and in a number of volunteer roles across many campus initiatives.
After graduating from Clemson University, he selected Syracuse Law for his legal studies due to the University's and College's dedication to serving veterans.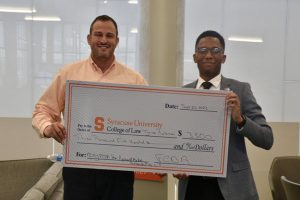 "I decided to come to law school because I felt that there was tension between how my community viewed the law, and how the rest of the country viewed the law. I was already familiar with one aspect of the tension, so I decided to learn the other. I wanted to learn the law," says Robinson.
At the College of Law, Robinson is a student attorney in the Betty and Michael D. Wohl Veterans Legal Clinic, a member of the Military and Veterans Law Society, and a volunteer with the Cold Case Justice Initiative.
Judge Mordue served as the senior U.S. District Judge for the Northern District of New York, where he was a judge from 1998 until his passing in December 2022. A 2022 recipient of the College's Law Honors Award, Judge Mordue was awarded the Distinguished Service Cross for actions during the Vietnam War as a First Lieutenant in the U.S. Army.
When informed that he was receiving the Mordue Scholarship, Robinson reflected, "The astonishing things that Judge Mordue has done, both in uniform and on the bench, inspire humility. To me, being selected as the inaugural recipient of this scholarship means that I must continue to strive for excellence in honor of Judge Mordue's legacy. Judge Mordue's scholarship will serve as a valuable resource so that I can not only graduate, but graduate in a manner that upholds the dignity and reputation of Syracuse Law," says Robinson. Upon graduation, Robinson plans to become a prosecutor.
Those interested in supporting the Mordue Scholarship, please visit the Mordue Scholarship web page.