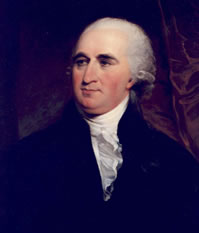 The Northern District of New York Federal Court Bar Association created the Hon. James R. Duane Award to honor a trailblazing jurist and member of the founding generation of lawyers in the Northern District. It is bestowed upon a distinguished member of the bar who has carried on Judge Duane's legacy of commitment to the practice of law, unswerving integrity, and tireless efforts on behalf of the people of New York.
James R. Duane was the first judge to preside over the United States Court for the District of New York on November 3, 1789, the first court ever convened under the sovereignty of the United States. He presided from 1789 to 1794. His seat on the federal bench was the culmination of a long and storied career of public service and the practice of law.
Admitted to the bar in 1754, Duane worked in private practice and served as clerk of the Chancery Court in 1762 and as Attorney General of New York in 1767. He played a central role in the birth of America as a delegate to the Continental Congress from 1776 to 1783 and a signer of the Articles of Confederation in 1781. In New York, he served on the committee that drafted the state constitution. He was the first mayor of New York, appointed to the position in 1784 and served until 1789, and served in the New York Senate from 1782 to 1785, and again from 1788 to 1790.
He was nominated to the nascent District Court by President George Washington on September 25, 1789, and was quickly confirmed by the Senate. He served until 1794, when ill health forced him to step down. He died in 1797 and is buried at Christ Church in Duanesburg, his former family homestead. Judge Duane's legacy lives on in the tradition of public service and dedication to the law exemplified by the recipients of the Hon. James R. Duane Award: