Judges and lawyers reflect on the life and legacy of Judge Norman A. Mordue, who died on December 29, 2022.
Chief United States District Judge Brenda K. Sannes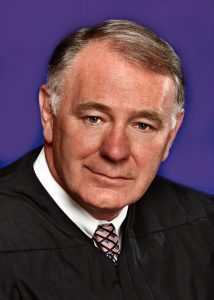 Norman A. Mordue, a beloved colleague on the Northern District of New York bench, passed away on December 29, 2022. He was 80 years old.
Throughout his distinguished career, which included service as the Chief Judge from 2006 to 2011, Judge Mordue was a leader and a role model. He demonstrated an unwavering commitment to the fair and impartial administration of justice. He was a true guardian of the Constitution who had a great respect for the rule of law and the importance of protecting individual rights and freedoms. Judge Mordue believed that everyone deserved a fair chance; he adjudicated every matter thoughtfully and with compassion. He will be remembered as a great jurist who commanded the deep respect of his colleagues, the legal community, and the people of the Northern District of New York.
But it was not just his professional life that made Judge Mordue so special. He was a genuinely kind and generous person who could make friends with anyone, and who touched the lives of many. His love for life was contagious: he inspired others to live their lives to the fullest. Whether it was through his work, his family, or his community, he always found a way to make a positive impact on the world. Since his passing, I have been amazed by the number of people who have reached out to express their sympathies. These conversations often turn to a funny story involving Judge Mordue and end with smiles and laughter. It seems everyone has their own "Mordue" story which I am confident is exactly how he wanted to be remembered.
I offer my deepest sympathies to his family and friends and my sincere gratitude for his dedicated service to the Northern District of New York. His passing is a great loss to the entire community he served with distinction. May he rest in peace.
United States District Judge David N. Hurd
Judge Mordue was, of course, one great person and a great judge. I have one story before we became close friends that I have always treasured.
It happened the day he was sworn in as a District Judge. I was still a Magistrate Judge. I sat in a front row seat. As he walked off the bench after being sworn in, he pointed at me and said "you're next." His prediction came true a few months later.
It was the start of a wonderful relationship and friendship with him that lasted over 23 years. He will be sorely missed.
United States District Judge Glenn T. Suddaby
"A Life of Service"
Judge Mordue is the shining example of what a a public service career is all about. He made countless personal sacrifices throughout his life and career for the benefit of all, never wavering due to health, safety or for other individual concerns. He was in every sense of the word a true warrior for justice, the good of mankind and the American way of life.
All that being said, the most notable thing about Judge Mordue was his friendly, kind, and easy demeanor. He would engage anyone and everyone he met in friendly conversation. No matter if the conversation lasted two minutes or two hours, they were some of the best moments of your day.
In conversing with the Judge about almost any topic from sports to American history, to a criminal case from decades ago, you were sure to be informed, entertained, impressed with his recall, and you would certainly share in some light-hearted humor.
He was one of a kind! Norm, enjoy a well-earned and deserved rest.
Hon. Norman A. Mordue, a great colleague and friend.
Senior United States District Judge Thomas J. McAvoy
Norm was the best of all the judges that I have worked with since coming on the bench in 1986. He will be missed and remembered as a judge to be emulated by all who work on the District Court.
Senior United States District Judge Frederick J. Scullin, Jr.
Norm was a good friend and a wonderful colleague. We spent many hours discussing the problems of the world in our chambers on the 12th floor of the Syracuse Courthouse … and many hours together making the game of golf look a lot harder than it could possibly be. I will miss that. Norm was always good company and fun to be with – as can be attested to by the number of friends he made wherever he went. I'm sure his legacy will continue for years to come. While he has left us for now (I like to think of it as "He just went before us") and he will be missed, he did leave us with many wonderful memories to be cherished. Until then – may he rest in God's hands.
Senior United States District Judge Lawrence E. Kahn
It was always a pleasure and honor to be Judge Mordue's close friend and colleague. Every moment of his life was devoted to serving others. And likewise, he was always a devoted, kind and considerate friend to all who were privileged to know him. Our bench is left with a gaping hole with his absence. May he rest in peace.
United States Magistrate Judge David E. Peebles (Recalled)
Despite putting up a valiant fight, District Judge Norman A. Mordue was taken from us all too soon. Apparently, God needed a good lawyer in heaven. (It has been said that lawyers are hard to find in heaven.)
To focus on just one memory or story to capture the essence of Judge Mordue would be a disservice to the wonderful human being he was and my relationship with him, Chris and his family. I first met Norm in 1974 when we both worked in the Onondaga County District Attorney's Office. Even then it was clear he was smart, with uncanny street sense, and a hard-working prosecutor tackling the toughest of cases, including the Robert Garrow murder trial. Since then, Sheila and I have enjoyed many memories together with Norm and Chris, including at the Inn of the Seasons and in Florida at the Dive Bar. Often when people find out I am from Syracuse invariably the first question is "do you know Norm Mordue?" Norm was comfortable talking with people from all walks of life. When Norm sat down next to you, often over an adult beverage, within minutes you felt as if you had known him forever. With his passing the Northern District of New York has lost a great judge, and I have lost a close personal friend. May God grant Norman peace.
FCBA President Adam J. Katz, U.S. Attorney's Office
Two decades ago, I served as an intern for Judge Mordue and learned about law and life from someone who had experienced, and endured, so much more than most could imagine. And one can only assume that those experiences shaped him into the kind and compassionate, open-minded yet firm judge whom our bar came to admire, respect, and love.
There was his deep civility and respect for all persons. Judge Mordue treated every lawyer and party who appeared before him in the courtroom, and every person he encountered on the street, as he wished to be treated. He cared about every case that came before him. There was also his deep love of country and commitment to service. Judge Mordue was a war hero and a career public servant. He turned down a lucrative offer to join a white-shoe law firm for a position with the Onondaga County District Attorney's Office before his ascent to the state and federal benches.
Then there was his humor. Judge Mordue loved a good joke. When I last saw him, in September, he was enjoying a good joke, in good company. And in a room full of laughter his laugh rang out the loudest.
We lost a giant, who had a tremendous impact on countless lives, including my own. Judge, may you rest in peace.
Former FCBA President John P. Langan, Chair, Barclay Damon LLP
Many years ago, I was before then-Justice Mordue in NYS Supreme Court on a big summary judgment motion in a packed courtroom (back in the days when it seemed like half the local trial bar would appear in person weekly for "motion term"). Opposing counsel was up from NYC and it was a high-profile dispute with lots of drama. Three months earlier my wife and I had suffered the greatest possible loss any parent can suffer and the argument before Judge Mordue was among my first back in court. Halfway through the argument, my mind went completely blank and I stopped mid-sentence. The courtroom was pin-drop quiet and seconds ticked by. I was not in distress and my thoughts had simply drifted to a far-away place outside the courtroom and moment I found myself in. I will never forget the look on Judge Mordue's face and his instant grasp of what was happening. He was a person who had seen more trauma than most from the battlefield and he recognized how damaged I was. In short order, he picked up from where I had stopped speaking and made the point I was trying to make, turning it gently into a question for the Court. I answered "yes," and then, together, we completed my argument in the same manner with Judge Mordue framing out the points to be made and me answering weakly, "yes, that is what I'm saying." I don't remember if we won or lost the motion but I will always remember the moment. Years later, I reminded him of the moment and he downplayed it but clearly remembered it. He was such a good person, formidable and tough, but sweet and empathetic. I loved him and will miss him.