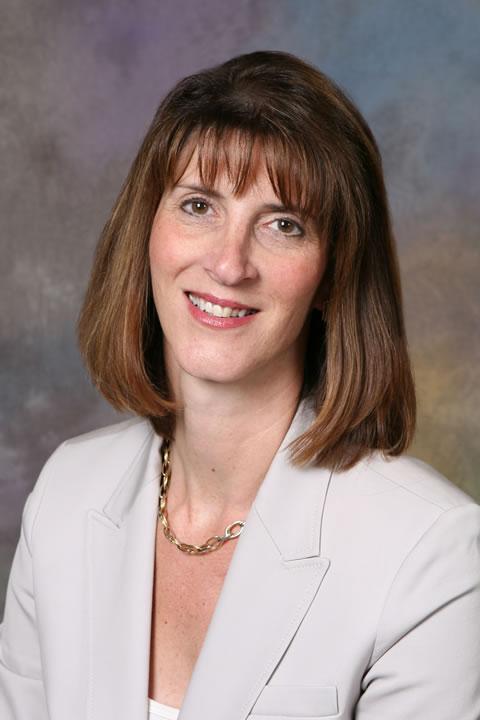 Joann Sternheimer is the Managing Partner of Deily & Glastetter, LLP in Albany. She practices primarily in the areas of bankruptcy and commercial litigation. Joann began her career as a clerk to the Hon. William F. Tuohey, a United States Bankruptcy Judge in the District of New Jersey. She then worked as an associate at a law firm in New Jersey before coming to Deily & Glastetter in 2000.
Joann will be President of the NDNY-FCBA in 2019. She is a past President of the Capital District Women's Bar Association and is the current President of The Legal Project, which provides legal services to low- and moderate-income individuals in such areas as domestic violence, immigration, foreclosure and bankruptcy.
Joann discussed her career and experiences as a bankruptcy practitioner, and her work for the Legal Project.
Can you describe your bankruptcy practice and how you came to it?
After graduating from law school, I clerked for a bankruptcy judge from 1993 to 1994. The stigma attached to bankruptcy was falling away. Also I was in New Jersey, which was experiencing a commercial real estate collapse. At that time, bankruptcy was exciting and busy.
I went straight from the clerkship into private practice, representing commercial debtors in bankruptcy. I also represented trustees who are appointed in Chapter 7 cases to collect all the assets for the estate and distribute them pro rata.
When I moved to Deily and Glastetter in 2000, I started representing creditors instead of debtors, but still also representing trustees. Representing creditors is a different side of the bankruptcy coin. I do a lot of bankruptcy litigation from the creditor side, which includes litigating to recover assets and to defend the creditor's claim. Our firm represents lots of lenders in the automotive, trucking and equipment industries, so I also do a lot of commercial litigation in federal and state court. Having practiced in New Jersey for 7 years before I came here, and representing national and regional clients, I still have about half of my practice in New Jersey. So I'm often traveling to New Jersey to go to court.
Bankruptcy has gotten a lot slower. In 2008 through 2010, bankruptcy was so busy you could not keep up with it. But since the recovery it's really slowed down. So a lot of my practice is now focused on commercial litigation and commercial transactions.
How did you become Managing Partner of your firm?
I became Managing Partner almost 6 years ago. That came from being a bankruptcy attorney. For years I have watched businesses fail and seen what doesn't work. From my bankruptcy work I developed a great deal of interest in running a business, and a law firm is a business. I've also had a lot experience evaluating attorneys' rates and fees, justifying them to courts when we are counsel to trustees, and collecting fees from clients who don't pay. Being involved in the business of the firm then grew into my becoming Managing Partner.
How much of your time is spent on your cases versus Managing Partner duties?
Probably about 25% of my time is spent on management. It depends. The firm recently moved and that was a much larger project than I had anticipated. During the planning for the move, and for several weeks after it, I probably spent about 40% of my time on administrative matters.
What did you mean when you said that bankruptcy used to have a stigma?
In the days before the Bankruptcy Code, there was a stigma associated with filing for bankruptcy, meaning that people were ashamed, businesses were embarrassed, and filing for bankruptcy was considered terrible PR. Slowly, following the adoption of the Code in 1979, and by the mid-1990s, that stigma had largely worn away, especially on the commercial side. Bankruptcy became a tool that businesses had to save jobs and to save the valuable parts of a business while perhaps letting the less valuable parts go. Bankruptcies then became more common. Lots of major companies, like American Airlines, have filed for bankruptcy with no apparent negative effect on their ability to do business.
What is the toughest, knottiest bankruptcy case you've been involved in?
The most difficult cases are not the large business cases. The most difficult cases are the small, family-operated business cases, because there is a lot of emotion involved. And oftentimes there are a lot of machinations that happened pre-bankruptcy, to save the family farm, as just an example. Maybe the farmer who owns the business nominally transfers the farm back to his mother, or maybe the mother is making loans to the son and none of the loans are documented. This can make it difficult for the trustee to sort out assets and claims and decide who actually needs to be paid. There are a lot of personal issues and emotion involved. You try to be sensitive to that while at the same time doing your job.
What is the biggest misconception that non-bankruptcy lawyers have about bankruptcy?
That it's the Wild, Wild West, as if there were no rules. There are rules. Litigation in bankruptcy court follows very closely the Federal Rules of Civil Procedure, and the Bankruptcy Code is its own set of rules. I find the litigation to be quite orderly although it does tend to move faster than in other types of cases. Lots of things are done on short notice. To the non-bankruptcy practitioner, that fast pace, coupled with the use of bankruptcy jargon, can give the appearance of chaos, but it's really not.
Is there anything about the bankruptcy bar here in the Northern District of New York that distinguishes it from other courts in which you have practiced?
This is a closer, more collegial bar because it is a smaller court than some of the other courts where I have practiced.
Do you have a favorite section of the Bankruptcy Code?
Yes, the sections on reversing fraudulent transfers. That is one of the Trustee's tools to recover money for the estate, and uncover possible fraud, self-dealing, and other machinations. To me, that kind of litigation is a lot of fun. Sometimes, a debtor has hidden assets and in due diligence, you may find a thread. Sometimes, you tug on it and you start to pull out money! It can be time-consuming and you often have to be tenacious, but that's fun to me.
Do you have a least favorite section of the Bankruptcy Code?
There is a section of the Bankruptcy Code that allows trustees and debtors to recover preferences. These are payments that are made to creditors, in the 90 days prior to a bankruptcy filing, that are larger than what the creditors would have otherwise gotten during the liquidation of the debtor's estate. The reasoning behind that – equality among similarly situated creditors – is sound, but as a creditor's attorney it is very difficult to explain to your client why they should have to give back some or all of the money that they received, pre-bankruptcy, and which they were legitimately owed and may have fought hard to recover. As a trustee's attorney, it is difficult because the creditor can be resistant to settling, because they feel they are owed the money, so why should they have to give it back?
What is your role at The Legal Project and how did you get started at the organization?
The Legal Project has a number of community-based clinics. I volunteered for the bankruptcy clinic, starting in 2003. My firm also became a big supporter of The Legal Project, both financially and also in that most of our attorneys volunteer for it. Some attorneys here will take on Chapter 7 bankruptcy cases pro bono, taking a case from filing all the way through discharge. More than 5 years ago, I joined the board. As president of the board, I work on strategic planning, help raise money for the organization, cheer on the organization, and conduct meetings. In the communities we serve, the need for legal services is constant and it is growing. We are also unique in that we serve both the poor and the working poor. We have no fixed income limit, whereas other legal services organizations may not be able to help someone making $15 an hour, even though that's not a lot of money.
What do you like to do in your spare time?
I love to go for a run in the morning, it helps to clear my head before I start the day. Cooking is my favorite thing to do. My husband is a huge gardener, so we have an absolute abundance of fresh produce all summer. I love everything about cooking, shopping for cookware, going to farmer's markets, gardening and reading cookbooks, and I like trying new foods. We're always experimenting. If I could spend all day cooking, I would, but then I'd also have to do a lot more running.