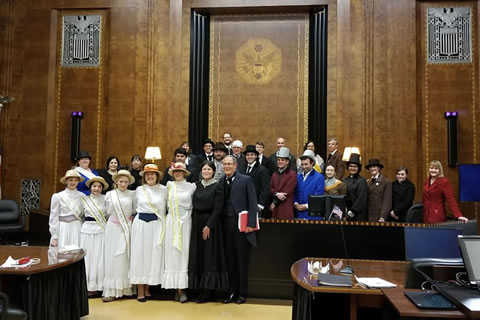 The Susan B. Anthony trial reenactment is coming to the federal courthouse in Syracuse, after playing to a packed audience in Albany in November. The reenactment of the 1873 trial of the civil rights icon will take place this Thursday, April 19 at 6 p.m. in the Ceremonial Courtroom of the James M. Hanley Courthouse in Syracuse. A catered reception will follow.
The FCBA is organizing and presenting the event, which is directed by United States District Judge Mae A. D'Agostino.
On Thursday night, Chief United States District Judge Glenn T. Suddaby will welcome attendees.
Albany Law School Professor Mary A. Lynch will reprise her role as Susan B. Anthony, and United States Attorney Grant C. Jaquith will again portray his predecessor United States Attorney Richard Crowley. United States Magistrate Judge Thérèse Wiley Dancks will again serve as narrator, and NDNY Deputy Clerk John M. Domurad will again play United States Supreme Court Associate Justice Ward Hunt, who presided over the 1873 trial.
Federal Public Defender Lisa Peebles will play Mary Anthony, Susan's sister and also a civil rights activist, and other Syracuse attorneys will also play key roles. Students from a Syracuse grade school will play suffragettes, and several Syracuse University Law students are also among the actors.
"We did what we did in Albany, which was to get a nice cross-section of people as actors," Judge D'Agostino said. "We have some really fine trial lawyers from Syracuse in some of the roles. It's going to be great." Judge D'Agostino also expressed appreciation for court employees – including security personnel and technology specialists – who are staying late in order to make the production happen.
In 1873, the United States Attorney for the NDNY prosecuted Anthony for voting illegally (as a woman) in the 1872 presidential election. United States Attorney Crowley prosecuted Anthony in Canandaigua, New York, then part of the NDNY. Associate Justice Hunt directed the jury to enter a verdict of guilty rather than permitting it to deliberate on the evidence presented at trial. He fined Anthony $100. (The Federal Judicial Center published a history of the trial, available here.)
The reenactment, a two-act play, is based on the 1873 trial transcript. It shows how Anthony voted in order to challenge laws that permitted only men to vote. She asserted that the Fourteenth Amendment to the Constitution, guaranteeing equal protection under the law, gave women the right to vote. Justice Hunt rejected her argument. Nearly 50 years passed before the Nineteenth Amendment, ratified in 1920, explicitly gave women the right to vote, though some states afforded this right to women before the Amendment's passage, with New York giving the franchise to women in 1917.
The goal is to experience and learn from history, and also to welcome the public into the courthouse. In Albany, the event drew about 300 people. "It's going to be a successful program integrating people from the community," Judge D'Agostino said of the Syracuse production. "We want to show people from all walks of life what we do."