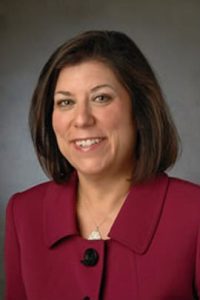 Kim Zimmer is set to become FCBA President on January 1, 2020.
Ms. Zimmer is a criminal defense attorney in Syracuse, her hometown.
She started her career at the U.S. Department of Justice's Honors Program in Washington D.C., as a Trial Attorney in the Tax Division.  From 1991 to 1998, she was an Assistant U.S. Attorney in Albany. From 1998 to 2002, she was Senior Trial Counsel at the U.S. Securities and Exchange Commission in Boston.
Ms. Zimmer moved to private practice in 2002, joining Green & Seifter, Attorneys, PLLC in Syracuse and heading its litigation practice group.  In 2008, she started her own firm, Zimmer Law Office, PLLC.
What is the case you are most proud of?
I helped a 33-year-old who had been in state prison for 10 years. He was serving a life sentence on an improper felony murder conviction. My client was purchasing drugs when two other guys broke in to the drug dealer's apartment, and robbed and killed the drug dealer. My client was the only one convicted, when he was 21 or 22, and he received a life sentence. But he was not involved in the robbery and had no idea that a robbery would take place.
I prepared a state court petition seeking post-conviction relief. Before I even filed the motion, I brought it to the Onondaga County District Attorney's Office, and they agreed to join the motion, in large part because they knew that the cooperating witness, who provided the only testimony that my client had knowledge of the robbery, was not involved and not even there in the apartment as he falsely testified at trial.  My client could not, therefore, be convicted of felony murder since he had to have knowledge and involvement in the robbery to be properly convicted.
On July 3, 2018, after serving almost 10 years in state prison and thinking that he might spend the rest of his life there, my client went home to his family.
Why did you switch to private practice after years of government service?
I loved my years as a federal prosecutor.  In 2002, I was looking to move back to Syracuse, and there was a government hiring freeze.  Shortly after I had accepted an offer at Green & Seifter, U.S. Attorney Joe Pavone called me to tell me that the hiring freeze had been lifted and that I could return to the U.S. Attorney's Office. But since I had already accepted with the law firm, and I always viewed it as important to my career to know how to do as many things as I could, I went to Green & Seifter and the decision to do so was a good one.
How did you come to start your own firm?
When I was in law school, I always wanted to have my own practice.  And at my law firm, for a number of reasons, I was not able to do the criminal defense work that I wanted to do.  Even though I was nervous to go out on my own, I began getting referrals that I would not have gotten inside the law firm.  That is because other attorneys were reluctant to refer work, for business reasons, because I had partners who could have served the clients in other practice areas.  I am very happy with this decision as it has not only allowed me to get more referrals, but also allowed me to be more visible and have my place in the criminal defense bar.
Describe your work in college disciplinary proceedings.
My work in this area started off with some of the Syracuse University basketball players, and it has now developed to getting referrals throughout New York State.   I have worked with students from Hobart, RIT, St. Lawrence, Colgate, Hamilton, Cornell, and Syracuse. It is a niche area, and it is interesting work. It requires knowledge of the various schools' codes of conduct and careful attention to the procedural rules. Most of the processes do not allow lawyers to act on behalf of the students, at least not directly.  Therefore, much of my time is spent behind the scenes coaching and preparing the student to represent themselves in the disciplinary process. Those cases are a team effort, because the parents are almost always involved.
What are the cases that stay with you over the years, that you find yourself thinking about again and again?
"My people" stay with me.  Specifically those who have worked hard to change and transform their lives.  I find it very rewarding to be in a situation where I can help people make important life changes.  Some former clients were not willing to change, but those that were willing needed the guidance. I hear from many of my clients, often during the Christmas season, letting me know that they are continuing to do well.
Describe some of your contributions to the FCBA.
I headed up the Criminal Law Practice Committee within FCBA, was the FCBA secretary, and was instrumental in starting the social events that we now have throughout the district.  Camaraderie within this organization is very important to me. That is because I have made many great friendships with other lawyers and had some of the best mentors, whom I credit with helping me develop as a lawyer.   I want members of the FCBA to meet and come to know each other, and have this invaluable resource, as I have had, in their careers. As FCBA President, I will focus on building camaraderie.
What advice do you give to law students or young attorneys?
It is important to broaden your experiences as much as you can, and not to get stuck.  Many attorneys get stuck and become afraid to make a move. Experience as many practice areas as you can, and do not allow yourself to get stuck or complacent.  The practice of law can be very fulfilling and is an art, not just a way to make a living. I firmly believe that if you are an unhappy lawyer, you can do something about that as there are ways to practice law besides the traditional ones we always think of.
What do you like to do in your spare time?
Ideally, be on a beach somewhere.  Travel is my number one thing. I also enjoy reading, a good glass of wine now and then, working out, and watching sports, especially SU.