At 5 p.m. on Friday, November 1, 2019, past FCBA President Mitchell J. Katz interviewed Senior United States District Judge Norman A. Mordue as part of the FCBA's "Fireside Chat" Series in the atrium of Dineen Hall at the Syracuse University College of Law.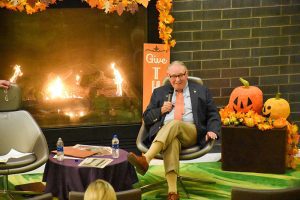 The event was attended by approximately two-dozen law students, lawyers, judges and court staff members, including Chief United States District Judge Glenn T. Suddaby, United States Magistrate Judge Thérèse Wiley Dancks, United States Magistrate Judge Miroslav Lovric, retired United States Magistrate Judge Gustave J. DiBianco, and Chief Deputy Clerk of Court Daniel McAllister.
What follows is a summary of the discussion between Mitch and Judge Mordue.
High School and College
Norm was born in June of 1942 and raised in Elmira, New York. While attending Elmira High School, he played football as quarterback. After graduating from there in 1960, he attended Manlius Military Academy for one year as a post-graduate.
He decided to do a post-graduate year of study because he was interested in playing football for Syracuse and had decided that this additional experience would be good for him, because the team was going to red-shirt him (meaning, allow him to attend college but not play football games in his first year). So they gave him a choice: attend Manlius Military Academy or Staunton Military Academy in Virginia. (The reason they wanted him to go to Manlius Military Academy is it played the Syracuse freshman team, as well as West Point, Annapolis, Colgate University, Ithaca College and Union College.) Because his childhood sweetheart Christine (now his wife) lived in Elmira, he wasn't going to go to Virginia. So he went to Manlius, where he played football.
After graduating from there in 1961, he received an athletic scholarship to attend Syracuse University. At Syracuse, Norm played half-back (with Floyd Little and Jim Nance under Coach Ben Schwartzwalder). Also at Syracuse, Norm participated in ROTC (at Coach Schwartzwalder's suggestion). Norm graduated from Syracuse University in January of 1966. The reason he hadn't graduated with his class in 1965 is that he'd had a football injury, which had required a bone graph and his attendance at the university for an extra semester.
Service in U.S. Army
After graduating from Syracuse University, Norm was commissioned as a first lieutenant in the United States Army. Because he had graduated as both an ROTC Distinguished Military Graduate and a Distinguished Military Student, he didn't go into the Reserve Army but the Regular Army (the same as if he had graduated from West Point), with an indefinite term of service. At the time, he wanted to make the Army a career, someday becoming a two-star general and commanding an infantry division.
He was deployed to Vietnam where he was assigned to Company C, 1st Battalion (Airborne), 12th Cavalry Regiment, 1st Cavalry Division. During that service, he served with great distinction, earning a Bronze Star with a "V" device (to denote valor), a Combat Infantryman Badge, the Air Medal, a Purple Heart and the Distinguished Service Cross.
The first medal was awarded for Norm's "courageous leadership and tenacious devotion to duty" in the spring of 1967. The fourth and fifth medals were awarded for Norm's conduct less than three months later, on May 31, 1967, while serving as platoon leader on a search-and-clear operation in the village of An Qui. An official description of this conduct reads as follows:
When another platoon was pinned down by heavy machine gun and grenade fire from a numerically superior and well entrenched insurgent force, Lieutenant Mordue immediately led his platoon on a fierce attack to relieve the pressure on the engaged unit. Seeing two of his men wounded and pinned down, he grabbed a machine gun and braved withering enemy fire to rescue them. He then moved to the front of his platoon, completely ignoring his own safety, and personally destroyed two enemy bunkers and killed five hostile soldiers in the ensuing offensive. Severely wounded and unable to walk, Lieutenant Mordue refused medical aid and directed the withdrawal of his men as deadly artillery strikes were called in on the Viet Cong positions. His bravery and gallant leadership contributed greatly to the defeat of the enemy. First Lieutenant Mordue's extraordinary heroism and devotion to duty were in keeping with the highest traditions of the military service and reflect great credit upon himself, his unit, and the United States Army.
After promoting him to captain at age 24, he says, the Army "made me an offer I couldn't refuse. But I did." His career officer told him, "We're putting a division together. Here's your executive officer. Here's the company you're going to command." Norm responded, "Look, I'm injured. I can't move my ankle. The doc said I can't go." His career officer said, "Well, then we'll put you in one of the other branches," meaning one of the Army's administrative branches: the transportation corps, adjutant general's corps, finance corps, medical service corps, etc. Cognizant of those branches' epithet "the rear with the gear," Norm was reluctant. He considered himself an infantry officer and, at that time in his life, couldn't see himself sitting behind a desk, "like I do, and have done, for the last 35 years." So he told his career officer, "I've got to be honest with you: I think, in about five years, if I was in one of those branches, I wouldn't care for it very much, and you really wouldn't like me; it's not going to work." So his career officer said, "Well, then, we have to put you out of the service."
Before medically discharging him in the fall of 1968, the Army sent Norm to the Veteran's Administration to talk to a vocational expert. The man said, "Captain, what're you going to do?" Norm responded, "I don't know." The man said, "Let me give you some tests. Maybe there's something I can help you with." So Norm took three days of tests, akin to aptitude tests:
They would give you an article to read for 45 minutes and they ask you questions. They were like the tests we would take as kids but much more difficult. They would ask, What is the theme of this article? What is the sub-theme? What does this stand for? Pick A through D, all of the above, or none of the above. And then they would give you the this-is-to-this-as-that-is-to-what kind of questions. And there were hours of questions asking, Would you like to plant a tulip? Help a lady across the street? Shoot a deer? Ride a bicycle? For three days.
A couple weeks later, the vocational expert met with Norm again and said, "Aha, so you want to be a lawyer?" Norm laughed and said, "I don't think so." The man said, "Let me show you something," then handed him a bar graph measuring a person's interest in different areas of life. The graph showed that Norm's interest in law was in the 98th percentile, while his interest in other areas of life was in less than the fifth percentile. The vocational expert said, "You don't know it, but you want to be a lawyer. In fact, I'm so convinced of it, here's the deal. I can't get you into law school, but you get yourself in, wherever you go, and we'll pay your books, tuition, monthly stipend, take care of it all."
Norm still wasn't sure. But a couple weeks later Norm came back to Syracuse and ran into two college friends, who had become lawyers. That night, he went home and joked to his wife, "If they can be lawyers, I can be a lawyer."
Law School
So Norm applied to the Syracuse University College of Law. He chose Syracuse because his first son, Dan, was in special education here, having been born with special needs. Ultimately, Norm said, Dan became the first child with special needs on the eastern seaboard to graduate from high school. "They trained him, and for 34 years he worked for the county. He's retired now. But that's why we came back to Syracuse to go to law school here."
Norm was admitted to law school mid-year. He had applied to be a member of the Class of 1972 (to start in the fall of 1969), but in 1968 the Service drafted 17 members of the Class of 1971; so the College moved Norm, along with 16 other applicants, into the Class of 1971 (to start in January of 1969). It turned out to be an accomplished group, said Norm, which included Karen DeCrow, David Howe, Steve Vollmer and Gary Mingolelli. "We had to catch up," he said. "We went to summer school in order to graduate with our new class."
Norm said that Moot Court during his first year ended up playing an important role in his career path. He explained that he had been presenting an oral argument before a panel of local attorneys acting as judges (including Jon Holcombe, who was at the time the Chief of the Felony Trial Unit and Appeals Unit of the Onondaga County District Attorney's Office) when his partner stood up to argue then froze, unable to speak. After the judges sympathetically allowed the student to submit his argument based on his brief, Norm stood up to argue. He explained, "I knew we were going to lose the thing because half my team didn't argue. But I did my best. When it was over, we lost. But Holcombe says to me, 'Come here: here's my card. If you ever want a job in the D.A.'s Office, give me a call.'" When Norm asked why Holcombe would want to hire him, Holcombe said, "You were a team and you didn't give up. Plus I think you write extremely well." So Norm went home and gave the card to his wife. When his grades came back, he saw that he was doing really well. So he said to his wife, "Remember that guy who gave me that card? You still have it?"
Norm went to work in the Onondaga County District Attorney's Office on February 10, 1970. "I was only an intern," he said, "but I was getting paid. It was the best job in town for an intern."
Service in District Attorney's Office
While interning in the District Attorney's Office as its sole "law clerk," Norm was assigned to the Appeals Unit, where he drafted appellate briefs (including those in the important case of People v. McKnight, 26 N.Y. 2d 1034 [1970], permitting a search and seizure during a traffic stop based on a suspect's furtive movement), and the Felony Trial Unit, where he worked with Jon Holcombe on homicide cases (for example, drafting applications for search warrants and motions in limine). Norm liked the work.
Upon graduation from the College of Law in 1971 (in two-and-a-half-years), Norm was offered a job in the District Attorney's Office, which he accepted. After passing the New York State Bar Exam, he was admitted to the bar in February of 1972, and the next day tried his first case: a felony.
His ascension in the District Attorney's Office was rapid. Early in his career there, Norm was assigned the prosecution of Robert Garrow, who had abducted two little girls from a Marble Farms Ice Cream Store on Grand Avenue in Syracuse, sexually abused them in Camillus, then let them go. Not long after that, Garrow became a serial killer, murdering a girl from Syracuse (Alicia Hauck), a girl from Cleveland, Ohio (Susan Petz, whose body was found in Essex County), her boyfriend (Daniel Porter, whose body was found in Warren County), and a young boy from Utica, New York (Philip Domblewski, whose body was found in Hamilton County). When Garrow was finally caught in 1973 in the resource-strained Hamilton County (which at the time contained a population of approximately 4,000 and no stop light), the role of prosecutor was quickly assigned to Norm. He explained,
The DA up there, Bill Intemann, asked for help. They hadn't had a murder in 35 years, and he was a part-time DA. Garrow was pleading insanity. The DA here, Leo Hayes, he had just become a State Supreme Court Justice. Holcome had become the acting DA, appointed by Governor Rockerfeller. John Shannon, the former Chief of the Felony Trial Unit, had just been promoted to Chief Assistant, leaving the Felony Trial Unit wide open. So they say, Norm, you can do it: go up and help Bill.
Norm ended up trying the case, which was previously referred to in the newsletter's Fall 2019 issue. See "Judge Mordue Depicted in Independent Film Garrow."
Norm talked about the well-known controversy arising from the fact that Garrow's lawyers (Francis Beige and Frank Armani) knew the location of the undiscovered bodies of Garrow's victims:
His lawyers wanted a meeting out in Camillus at Armani's office. They said, 'Leo [Hayes], you want a body: here's a photo of it. John McDonald [District Attorney of Essex County], you don't know it, but up in Essex County, you have another body. We'll give you a confession to four murders in exchange for a sentence of 0 to 15 years for manslaughter second.' And Leo Hayes and those guys said, 'Absolutely not, that's crazy.' But the word got out that these lawyers knew where the bodies were, and that turned into this famous case that you all learn about in law school [People v. Belge], about the scope of the duty to disclose the confidences of your client.
Norm explained how he had been in charge of presenting to the grand jury the alleged misconduct of the lawyers:
I didn't sleep the night before, because, in my opinion, the charges were wrong. I said to the D.A., you want that law charged, you can do it: I felt that strongly about it. So I let them do it, and I stayed out of it. When the dust settled, the ruling was they had no duty to disclose in that case.
After the verdict in the Garrow case came in, Holcombe asked Norm to come to the office one Saturday morning. "Wear a suit," he said. Norm came in to find Holcombe standing in front of a bunch of TV cameras. Holcombe said, "I want to announce my new Chief of the Felony Trial Unit." Norm recounted the moment sheepishly: "I had been a lawyer for a whole three years. So there I was. Now what do I do?"
As Chief of the Felony Trial Unit, his duty was to watch over the other members of the unit. "Like herding cats," he said. In the unit at the time were Bill Fitzpatrick and Ed Menkin, "two incredibly successful lawyers," Norm said. When asked if they listened to him, he smiled: "They did what they wanted, pretty much."
Service as State Court Judge
Norm first decided he might want to become a judge by working in the Felony Trial Unit, where he got to know the then-sitting Onondaga County Court Judges, who included Thomas Aloi, Albert Orenstein and Ormand Gale. They were "such gentlemen–so knowledgeable and fair" that he "wanted to be like them."
So he started working on Leo Hayes' first judicial campaign, writing speeches for him and driving him to and from events. There he would meet people who might someday help him become a judge, such as campaign officials and party leaders. "That included Fire Chiefs," he said, whose support was very helpful in communities.
One judge whom Norm came to particularly admire was Onondaga County Court Judge James Anderson. Norm got to know Judge Anderson better when Norm was asked by other members of the Felony Trial Unit to go to the judge, who was sick, and suggest that the judge spread out his calendar, in order to lighten the judge's workload. Judge Anderson responded that working took his mind off of his illness; and the two came to be friends. So, when Norm came to work one Monday morning in 1982 to hear another fella in the office say, "Big boy, Anderson kicked the bucket! That's my seat!" it bothered Norm. Norm said, "You're making a mistake here: I'm going to be the next County Court Judge."
Norm's competition for Onondaga County Court Judge was stiff, including (future United States District Judge) Frederick J. Scullin, Jr., (future New York State Supreme Court Justice) Charles T. Major, Jr., (future New York State Supreme Court Justice) John J. Brunetti, (Clay Town Justice) Richard A. Wittenburg, and (renowned criminal defense attorney) Richard D. Priest. But Norm won and took the bench in January of 1983.
He served for three years and then an opening came up on the New York State Supreme Court. "People said I should run," he said. "I told them, 'I've never had a case in State Supreme Court [which is the court of general jurisdiction in New York]. They said, 'You could learn.'" So he ran. "I lucked out," he said. "I got cross-endorsed." He won again and took the bench in January of 1986.
He recalled, "The first job they gave me [as a State Supreme Court Justice] was as calendar judge. I didn't know what the hell I was doing. I was helped by my law clerk, Lois Reitz, who had earned an A in my trial practice course at Syracuse University College of Law, and had also been the clerk to Judge Anderson, who I was replacing. She was good."
During his 13 years as a State Supreme Court Justice, he was assigned for 17 months to Manhattan, to alleviate the workload there. He had anticipated that the lawyers who appeared before him would be obnoxious. "But really they weren't," he said. "Not as a rule. They were respectful, I thought." In addition, he said, "I really liked the people in New York City. What I didn't like was trying to get back to my hotel at night using the subways–the smell in the air, the pushing and shoving."
His chance to become a United States District Judge came about when United States District Judge Rosemary S. Pooler was elevated to the Second Circuit Court of Appeals in June of 1998, leaving an opening on the district court bench. "I'd always wanted to have a combination of civil and criminal case. So I liked the idea [of becoming a United States District Judge]."
Service as United States District Judge
Norm described how he got a nomination from President Bill Clinton:
It was a time, back in 1998, when Democrats and Republicans got along. Al D'Amato and Daniel Moynihan were best of friends, I never heard them say a cross word to each other. They would alternate years approving nominations. It was D'Amato's turn, and his right-hand man in New York was John O'Mara from Elmira. I'm from Elmira, and I'd known John for years. He'd once told me, 'Let me know if an opening ever comes up you want.' So I called him up and said, 'I'm interested in that job.' It didn't take too long.
Norm took a seat on the United States District Court for the Northern District of New York on December 4, 1998.
He recalled how, as the "new guy," he was assigned "all the worst cases" from the other district judges. "That was the system," he explained. To help him, he hired as his career law clerk Annelle McCullough (who ended up serving in that capacity for 20 years) and a term law clerk. In addition, he was assigned a third clerk through the use of temporary emergency funding (because the Court was one of the most congested district courts in the country at the time). Together, they worked extremely hard to reduce his pending caseload from 700 to 425. "But then Scullin became chief [in 2000]," he said, "and wanted to level the playing field [between judges]. So my caseload went back up to 575."
Of all the cases he has presided over in United States District Court through the years, the types he has liked least are pro se cases and patent cases. The types of cases he has liked most are criminal cases and torts cases, especially medical malpractice.
During the entirety of his career, the proceedings he has liked to preside over most have been naturalization proceedings (during which immigrants because citizens) and adoption proceedings (which he has found to be the most rewarding thing he has done as a judge).
When asked whether civility between lawyers has changed over the years in his experience, he said that it has declined. "I don't know why," he said. "Maybe it's the money thing." He recalled how one time, in a patent case against a large corporation, the corporation had 35 lawyers in the courtroom. "They wouldn't talk to opposing counsel," he said. "It was worse than a matrimonial case. That's not uniform. But it's something I didn't expect."
Norm served as Chief United States District Judge from 2006 to 2011, then took senior status in 2013. For five-and-a-half years as a Senior United States District Judge, he kept a full caseload. That changed once his wife Chris found out that other district judges on senior status did not keep a full caseload. Norm asked the Clerk of Court to reduce his caseload to the level of another district judge on senior status. "Last year I spent four months in Florida," he said. "I was so bored."
The fireside chat concluded at approximately 6:30 p.m., and was followed by a social hour during which attendees were able to chat further with Judge Mordue.