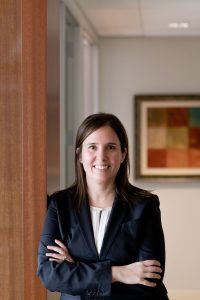 Interviewed by Janelle A. Pelli
Judge Anne M. Nardacci took the bench in December 2022. In this interview, Judge Nardacci discussed her prior experience as a litigator, her approach as a judge, and advice for attorneys who appear before her.
1. How have your past experiences prepared you for being a federal judge?
Before joining the bench, I was a commercial litigator for 20 years, doing mostly antitrust litigation. Although I was based in Albany, my practice gave me the opportunity to litigate cases in federal courts across the country. That experience not only honed my litigation skills, it also gave me a great perspective on how different judges manage their courtrooms and their cases. Overall, I found that federal judges were really invested in their work, and did their best to be impartial and resolve matters fairly and efficiently. My time practicing before and observing these judges has helped prepare me to do the same.
2. Can you describe your prior antitrust practice and how you came to it?
Most recently, I was at Boies Schiller Flexner LLP representing both plaintiffs and defendants in major antitrust actions. These actions were a mix of individual actions, class actions, and multidistrict litigations, and often there were parallel criminal investigations or proceedings. Antitrust is a great practice area because it allows the attorneys to learn an industry soup to nuts, inside and out. It also taught me federal practice and procedure and provided me with opportunities at the appellate level.
I began my career at Skadden, Arps, Slate, Meagher & Flom LLP in New York City, where I was a summer associate while a law student at Cornell. As a summer associate, I knew that I wanted to litigate, but I wasn't certain what my focus should be. During that summer, I rotated through the firm's different departments, and found that I enjoyed antitrust work. I hadn't even taken an antitrust class at that point and I decided to enroll in one for my third year of law school, and then joined Skadden's antitrust department after graduation.
3. How do you approach your role as a federal judge?
I approach my role with preparation and respect for the parties. In this way, it is not unlike being an advocate. As a judge, I also strive to be open-minded. By the time attorneys appear before me, I have already read their papers at length, and I am ready to engage with the attorneys on the difficult issues. I will schedule argument when I think that it will be helpful.
Creativity plays an important role as well. Of course, as a district court judge, I am constrained by the law of the Second Circuit. But there are often creative ways to approach problems, and I am always looking for practical solutions to disputes.
4. What is the most important function federal judges play in our society?
Federal judges have a lot of important roles and responsibilities, but I think one of the weightiest tasks they undertake is criminal sentencing. I treat sentencing with the utmost seriousness, because someone's life and liberty are at stake. I always carefully consider the papers and what the individuals involved have to say.
5. In your opinion, what are the biggest challenges facing the NDNY today?
I would say that one of them is access to counsel in civil cases. It can be a real challenge to find counsel to represent plaintiffs in Section 1983 cases, where those plaintiffs have been proceeding pro se. To that end, the Northern District of New York and Federal Court Bar Association have set up a fantastic new trial advocacy program to help address the issue. We are working with the National Institute for Trial Advocacy, also known as NITA, to offer trial advocacy training at no cost to members of the bar. NITA did a similar program with the Southern District of New York, which was very successful there, and they have adapted it for the needs of the Northern District.
Our program in the Northern District kicks off this October. NITA will be training twelve attorneys, and once trained, those attorneys have agreed to serve the Court by each taking on one of these cases. I really encourage junior attorneys to take advantage of this great opportunity, which will be repeated in the future.
6. Is there anything you miss about practicing law?
Believe it or not, discovery. In the Northern District, our Magistrate Judges handle discovery issues, so it is rare for me to get involved in a discovery dispute.
7. Do you have any tips for the attorneys practicing before you?
I cannot stress enough how important it is to be on time and be prepared. Get your paperwork in ahead of time. Know your case, including what claims are left for trial. Please treat the courtroom deputy, and everyone, with respect. Common courtesy and preparedness go a long way. Civility is also very important, I have no tolerance for rudeness in my courtroom.
In addition, although our District's local rules are quite comprehensive, I am in the process of drafting a few individual rules of practice. In particular, I plan to have a rule encouraging junior attorneys to have speaking roles in the cases before me. I think it is important to attorney development to give junior attorneys opportunities to argue in court.
As for whether we are back to "in-person" proceedings, I typically take status conferences over the phone. If we will be reviewing issues in more depth, I prefer to hold those conferences in person. I prefer argument to be in person, but I will accommodate parties' requests where appropriate, at my discretion.
8. What do you like to do in your spare time?
I love to travel. I recently went to London with my family. It was our first international trip since the pandemic, and it was great to be traveling again!